Dr. Lawrence E. Anderson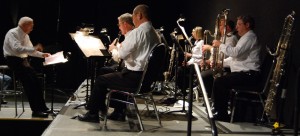 Dr. Lawrence E. Anderson was instrumental in the launching of Clarinet Fusion as a clarinet choir beginning in May 2012. It was at this time that Clarinet Fusion reformatted and doubled in size from a 5 person quintet to a 10 person clarinet choir. Dr. Anderson assumed the role of conductor and brought with him much knowledge on musicality and interpretation, as well as music history.  He gladly shared his wealth of knowledge with the group at rehearsals on a weekly basis. Dr. Anderson served as conductor of Clarinet Fusion for two full seasons. During this time Dr. Anderson enabled the musicians of Clarinet Fusion to reach new performance levels; becoming more integrated and cohesive allowing them to move along the path of now performing without a conductor.
Dr. Lawrence E. Anderson, is the Director of Bands and Supervisor of Teacher Education in Music, Emeritus, University of California, Davis, and is a native of Lafayette, CA. He is a graduate of Acalanes High School where he was an active band member and served as Drum Major his senior year. He attended the University of California, Berkeley where he was a member of the California Marching Band and the University Concert Band. His senior year he was elected Student Director of the Marching Band. He also directed the Cal Alumni Band for several years. He currently writes a monthly column, "Notes On Key", for Alive Magazine. Dr. Anderson is the founder of the Danville Community Band, for which he holds the title of Founding Director and Artistic Director, and participates in as a clarinetist.
—
Harvey Benstein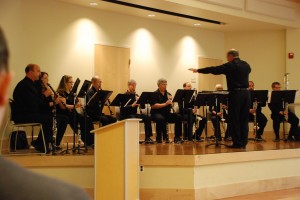 Harvey Benstein is in his seventeenth year as Music Director and Conductor of The Walnut Creek Concert Band. Five members of Clarinet Fusion have played under Harvey's baton in the band for quite some time. Harvey has worked with Clarinet Fusion in preparation for several of their events and he was a guest conductor for one of their performances. Harvey is invested in Clarinet Fusion's growth and success and has pushed them to new levels.
Harvey has been the Music Director and Conductor of the Contra Costa Chamber Orchestra. His teaching career spans over 40 years, teaching on the faculties of Ohio State University (OH), McNeese State University (LA), and Butler University (IN). His secondary school teaching experience began in his home state of Michigan and culminated at Campolindo High School in Moraga, CA. He is in demand as a guest conductor and clinician throughout the United States, working with professional, collegiate, amateur, and student ensembles. Before pursuing his passion of conducting, as a child growing up Harvey enjoyed playing the clarinet.
—
Dr. Robert Calonico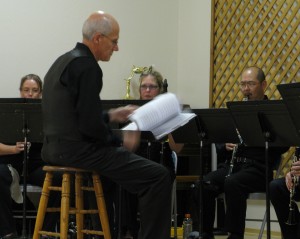 Robert Calonico is Conductor and Musical Director of the Danville Community Band. He has sat in on several rehearsals with Clarinet Fusion and he has been a guest conductor for one of our performances. He currently serves as the Director of Bands at the University of California, Berkeley where his duties include directing and arranging for the Cal Marching Band and conducting the University Wind Ensemble. He is a graduate of St Mary's College High School in Berkeley and holds a B.A. in music from UC Berkeley. He earned his teaching credential and a M.A. in clarinet performance from California State University, Hayward.
—
Diane Maltester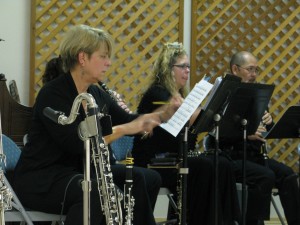 Diane Maltester–a clarinet instructor for St. Mary's College, California State University East Bay, and Los Medanos College–is also a neighbor of Clarinet Fusion. She and her husband John live around the corner from the home of Clarinet Fusion's founder; this the location at which our weekly rehearsals are held. Diane has provided invaluable guidance to Clarinet Fusion and on occasion sits in on performances.
Diane is a professional clarinetist performing in groups to include: the Oakland-East Bay Symphony, the Walnut Creek Festival Opera, the Vallejo Symphony, and the Fremont Symphony Orchestra. She is presently the co-conductor of the Diablo Wind Symphony, a Bay Area honor band. She enjoys teaching and coaching and is a former Northern Woodwind Chairperson for the Music Teachers' Association of California. She received her Master's degree in music performance from California State University at Hayward.
For more information on Diane.
—
San Francisco Symphony Community of Music Makers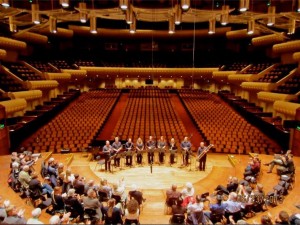 Clarinet Fusion has had the honor of being selected for San Francisco Symphony's Community of Music Makers Chamber Music Workshop for four consecutive years, 2013-2016. The opportunity to work directly with members of the symphony, especially Lolly Lewis and Jerry Simas, has been invaluable to the growth of Clarinet Fusion.
Community of Music Makers is a new program created expressly for adult amateur musicians who want to engage in the joys of making music with others, whether playing an instrument in a chamber group or orchestra or singing in a chorus. Workshops and events take place in Davies Symphony Hall, where community musicians can improve their skills and are mentored by San Francisco Symphony players and artistic staff. Symphony Musicians provide coaching for each group, and then all groups convene on the Davies Symphony Hall Stage to perform a short selection for other workshop members and guests.
—
Dr. Harold E. Wright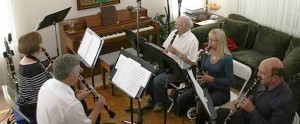 Originally Clarinet Fusion was formed as a quartet, but they were soon joined by their first mentor, Dr. Harold E. Wright. Known affectionately as "Hal" he coached the group as they began performing as a quintet. When Hal joined the ensemble he was 93 years young and he began inspiring members to feel the magic of the music. His background as a concert pianist, touring clarinetist and musical educator proved invaluable to the group. Clarinet Fusion grew tremendously under Hal's tutelage. A fellow musician once said "When playing with Hal you felt the youth, energy and excitement of a much younger person."
Harold (Hal) Wright earned his undergraduate degree in Music at Fredonia State College in New York, after which he "played" his way through Europe in 1937 and returned to the U.S. to teach. He first began teaching jazz to middle school age students – for which they toured and played in Canada in 1940. In 1942, Hal earned a Masters Degree in Music from Columbia University in New York. He also joined the Marines in 1942 serving in the 5th Marine Division during World War II. Hal played solo clarinet as part of the U.S. Marine Band. After his tour of duty ended, Hal returned to Columbia University where he earned his Doctorate in Music in 1955. Wright made teaching and performing his career, moving on to teach and then head the Music Department at Northern Michigan University, a post that he held for many years. Dr. Wright received a second Doctoral Degree in 1993 from NMU.
At the age of 95 Hal moved to Elk Grove, CA to be closer to his family. He continued to play his grand piano and joined the Elk Grove Community Band as a clarinetist.